Why do gorgeous houses sit on the market for so long or sell well below the market value? Sometimes, it can be as simple as they weren't staged properly! When a potential buyer comes through your property, they need to be able to imagine that they can make the house into their next home. That's where professional home staging from The Staging Place can come in handy.
WOW your potential buyers this spring!
Home Staging and Your Marketing Strategy
Staging your home involves putting furniture and color schemes in the home that are meant to showcase different features and ultimately take its appearance to the next level.
Staging can make your home feel warm and welcoming without making potential buyers feel like they're invading someone's space. It will help them get a clear picture of if they can turn your house into their future home, and develop the idea of building a life there.
Main Reasons to Stage Your Home Professionally
There are many great reasons to stage your home professionally, but we have chosen some of the main benefits our clients have seen from our services. 
A home that's professionally staged will catch more eyes when viewed online or inside the home. People often spend more time checking the details out and making an emotional connection with the home. This emotional connection is what leads to offers. Staged homes always stand out more and attract interested buyers better than just vacant homes.
Since they attract more attention from potential buyers, staged homes often sell faster. The less time on the market your property gets, the more money you could make from selling your home.
Did you know that staging helps add value to the home? Sometimes, if a buyer falls in love with a certain aspect of the staging process, you can bundle that into the home deal and ultimately sell your home for much more! Buyers are making an emotional purchase decision, and that attachment to the home can create a sense of urgency and higher bids as a result.
Receive more foot traffic:
Oftentimes, people might drop by just to get a look at the staging design. The great first impression will prompt them to share thier experience with friends and family, and with more eyes on the property, the higher the chance it ends up in a buyer's "must-see" list. Even if a person was not planning on buying, visitors might fall in love with your home and consider purchasing after all. More foot traffic can make the home appear as if it's going to sell any day, creating a sense of urgency and prompting serious buyers to act quickly. 
Staged homes come across as better maintained than empty homes. Home staging draws the eye towards the positive features, distracting the eye from minor faults or imperfections, and making for a better first impression. If you live in a well-loved older home that has minor imperfections, professional staging is an almost essential part of the selling process—emphasize its charms, not its flaws with professional home staging.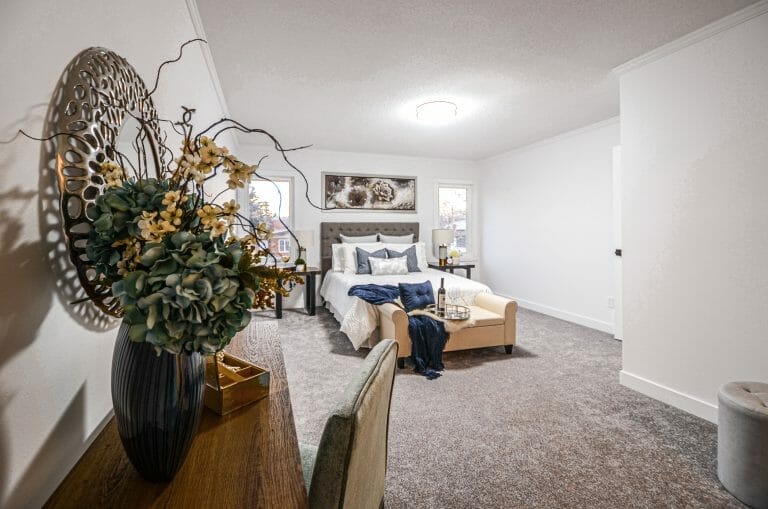 Looking to sell your home or an income property?—stage your home with The Staging Place! For more information about the staging process and how you can sell your home sooner for more money, visit our website or contact us to get started!